China Plastics Processing Industry Association's Engineering Plastics Industry Association (hereinafter referred to as Engineering Plastics Industry Association) was founded in 1998, an association under China Plastics Processing Industry Association (CPPIA), and it is a voluntarily associated industrial organization by relevant enterprises and public institutions, research institutes, and universities and colleges etc. Members of the Association include enterprises and institutions, which substantially represent the highest level of the industry, in such fields as processing modification, application, research and trading of engineering plastics.
Objective: It is to serve the industry as well as enterprises, organize enterprises and public institutions to conduct exchange and cooperate in research, development, production, application and management of engineering plastics, accelerate fast and healthy growth of the engineering plastics industry, and improve the overall level of the engineering plastics industry.
Basic Functions: The Association is a voluntary and non-profit association without administrative function. It relies on the strong research level and experts of CAS's Ningbo Institute of Material Technology & Engineering, works together with enterprises, public institutions and individuals, which are willing to promote industrial growth of high technologies in engineering plastics and improve overall industrial level, and provides various services to its members in obtaining preferential policies, industrial coordinating, information sharing, and technical exchange etc.

Main Honor: Honored as an excellent association awarded by CPPIA.

Major Works:
1 Organize fellow members of the industry home and abroad to conduct technical exchange of engineering plastics and research its growth and trends of engineering plastics;

2 Organize technical discussion, technical consultation, market forecasting and personnel training etc to better serve the industry; with industrial collaboration, entrust research institutes to find solutions to common technical bottlenecks in its industrial growth;

3 With permits by relevant state authorities, organize and draft national standards and industrial standards in production processes, manufacturing methods, and products in engineering plastics;

4 Study the development status home and abroad, and participate in guidance of industrial growth;

5 Improve the quality of its publication, Engineering Plastics Newsletter, and its website www.sino-epa.com, such as industrial statistics, and collect, analyze and release industrial information;

6 Extensively organize and conduct economic and technical exchange and cooperation inside or outside the industry as well as home and abroad, organize exhibitions home and abroad, participate in international conferences, and conduct investigation home and abroad;

7 Entrusted by governmental authorities, members and relevant organizations, organize appraisal of scientific and technological results and promote their applications, participate in evaluation of scientific and technological results as well as product appraisal, promote application of new processes, new materials, new technologies and new products, and improve environmental protection and energy saving within the industry;

8 Submit to relevant governmental authorities with thoughts and suggestions over its growth of engineering plastics in China.
Directory of Major Members 2011CPPIA's Engineering Plastics Association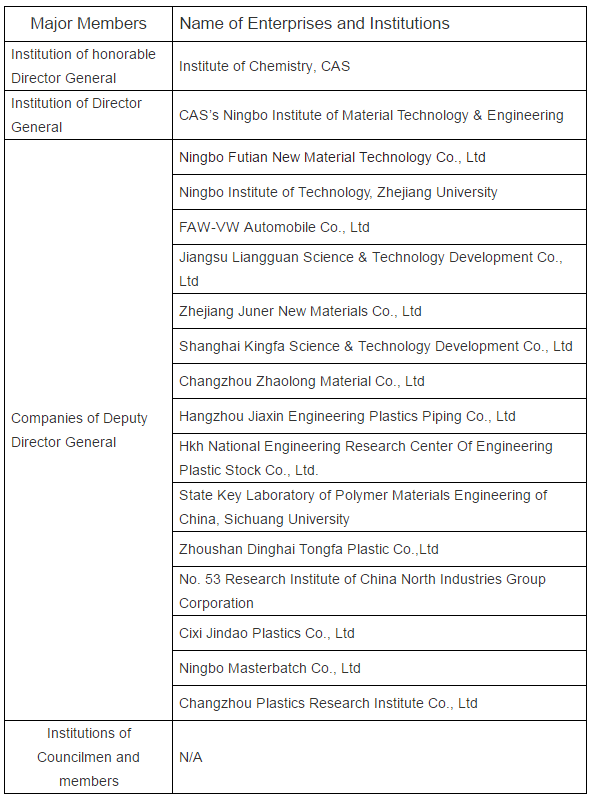 Contacts
The office of the Association is located in CAS's Ningbo Institute of Material Technology & Engineering.
Secretary General: Zhao Mingyou
Add: C404 No. 1219 Zhongguan West Road Zhenhai District Ningbo City Zhejiang Province
Postal Code: 315201
Tel: +86-574-86698517
Fax: +86-574-86698517
Website: http://www.sino-epa.com
Email: sinoepa@163.com